The various tribes and cultures of North East India are sure to treat you with unique and mouth-watering delicacies. Most of their food and dishes and drinks use simple ingredients like Bamboo Shoot, BhutJolokia and local greens. To intensify the flavour and to make it more exotic, the dishes or food are prepared with mustard oil. Here we have collected 15 different dishes, meals, food from North East India which are experienced by @iamderryberry during her travel across the region. We are sure you have not heard about most of the dishes. Let us know in the comment section if you have tried any of them and how was the taste. If you want to explore some of the most exotic dishes of North East India please come and join us for "Explore Food NorthEast Tour". The names of food or dishes or ingredients mentioned below are all based on the description given by the host and if there is any mistake, please suggest us in comment section for correction.
1. Jadoh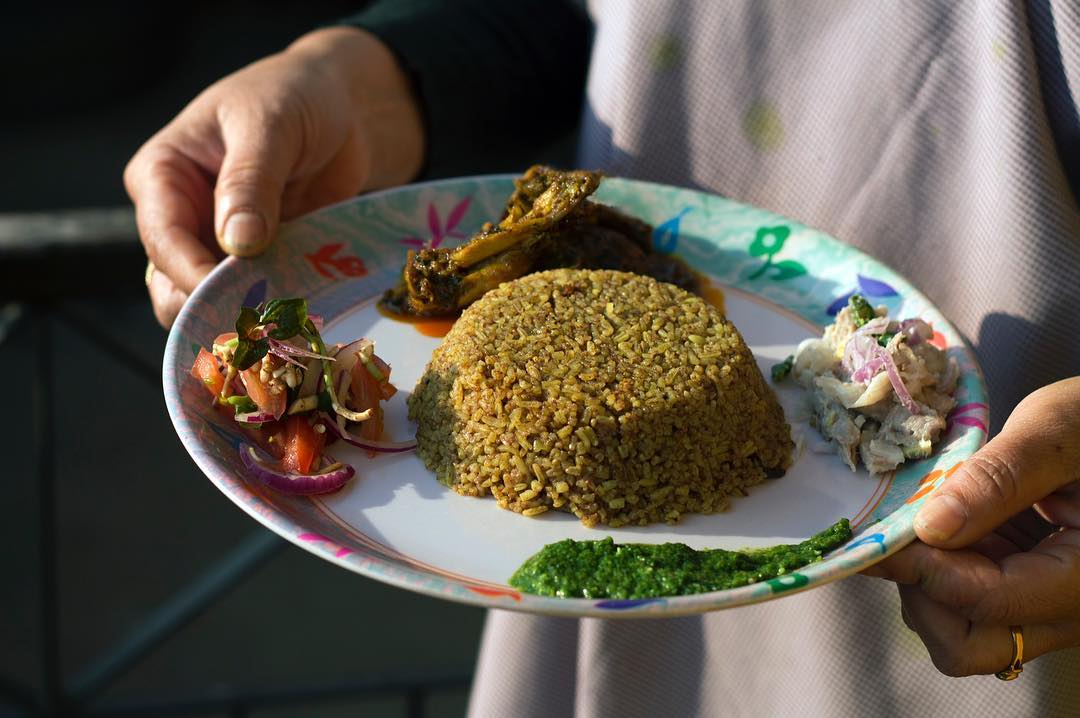 Jaintia tribe of Meghalaya reside on Jaintia Hills. Their meal consists of Jadoh (a type of pork biryani), cooked using rice, onion, garlic, turmeric and ginger. This version is Jadoh snam as raw pork blood is mixed with the rice and cooked in pork fat. Ja Mardoh (heartleaf), mixed together with soft tomatoes and crunchy onions and a pinch of salt. The flavour is fresh and fishy, the steam of heart-leaf adds a texture to the salad. The bright green chutney is of Mint (pudina) leaves. Dosyear is pepper chicken, it is spicy and a good dish to eat when you have a cold. Dohkhlieh is boiled pork and onion salad. The pork is boiled and shredded into tiny pieces, pork fat is used to mix the meat and the onions together.
2. Phalap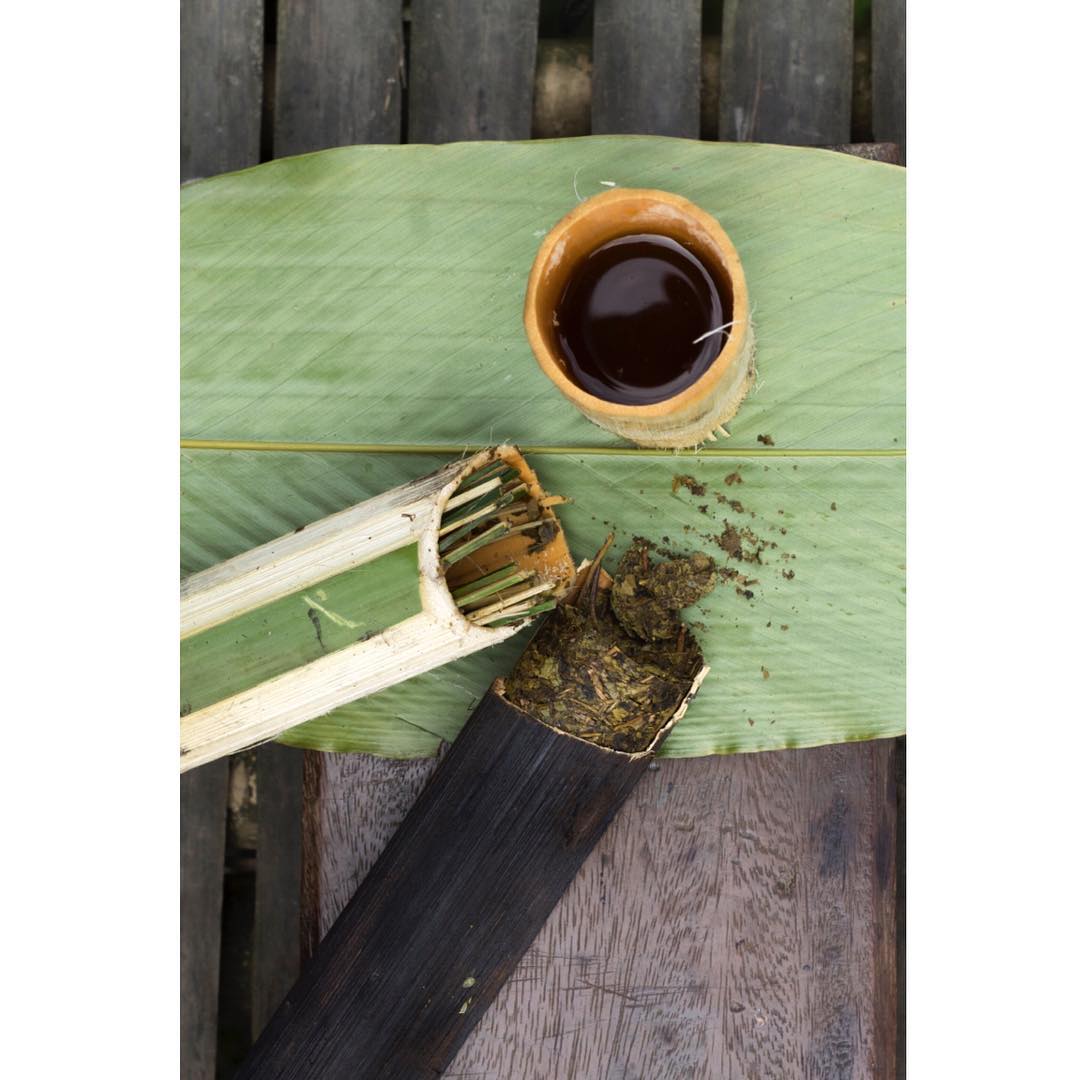 All you need for a December morning is a cup of hot Phalap (smoked tea). This tea is made from tender tea leaves which is roasted, then stuffed into bamboos. The bamboos are hung over wood fire kitchen stoves to continue with the process of smoking it. After smoke drying it is ready to be consumed.
3. Ooti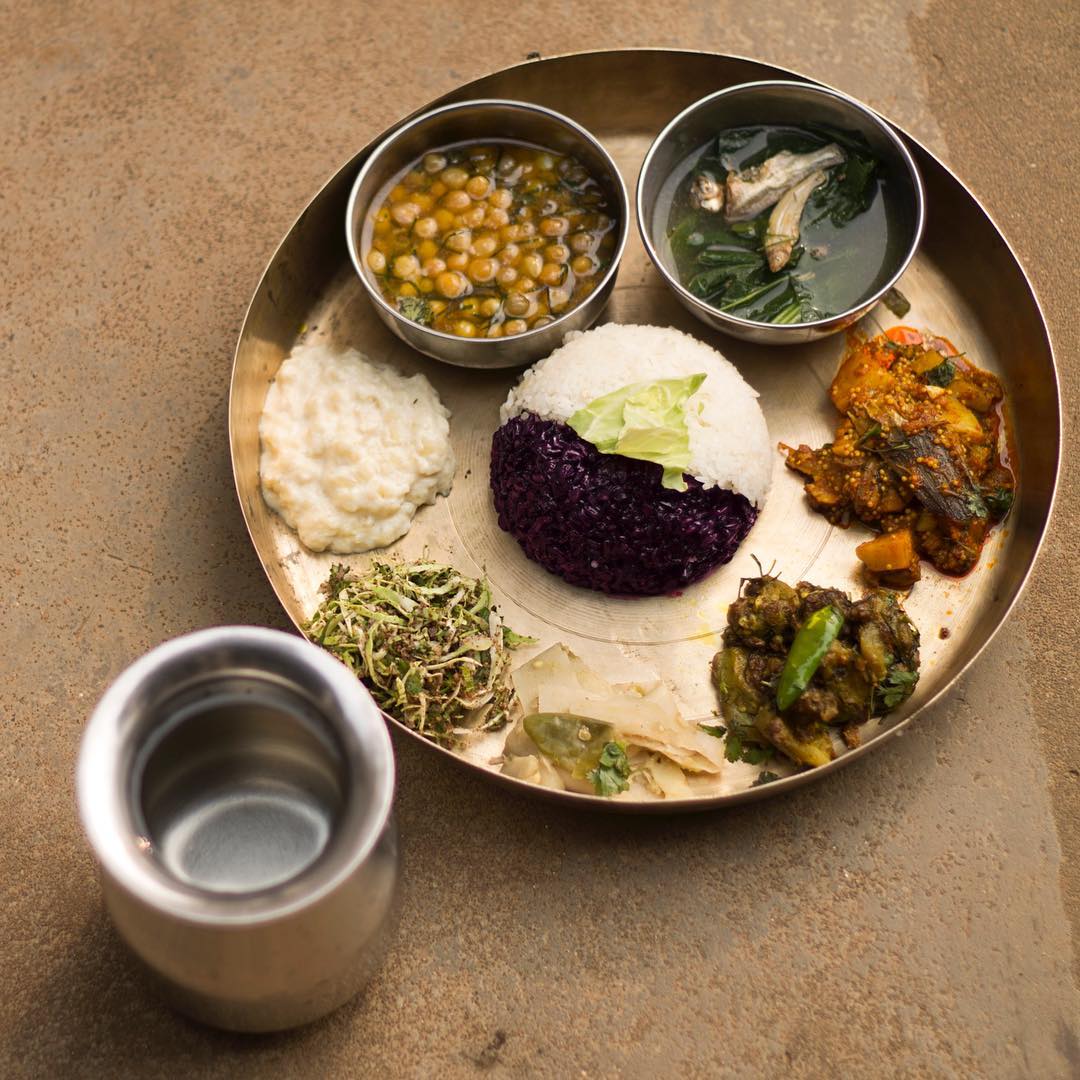 Ooti is a Manipuri dish made of yellow hawaitharak (pea), garlic leaf and ginger garnished with pakhon (dill). Hanggam chamthong is kind of a stew made by boiling mustard greens and fermented fish. Nga atoiba is made of fresh water fish, fermented dal, mustard seeds, garlic leaf and a hell lot of red chilly powder. This bright orange dish was my favourite. Khamen Thongba (brinjal dish), with green chillies garnished with coriander. Iromba is an all Manipuri household favourite. Mashed boiled vegetables or bamboo shoot with ngari (fermented fish) and morok (green chillies). Usually whitish in appearance. Salad consists of julienne cabbage, chopped asiatic pennywort, coriander and white sesame powder. Kher, a sweet dish made of rice, milk and sugar to finish of the meal. The meal is served with white rice or black rice (purple in appearance and sticker than normal white rice. Chahao kheer (black rice pudding) can be made with this rice too.
4. Smoked sun-dried fish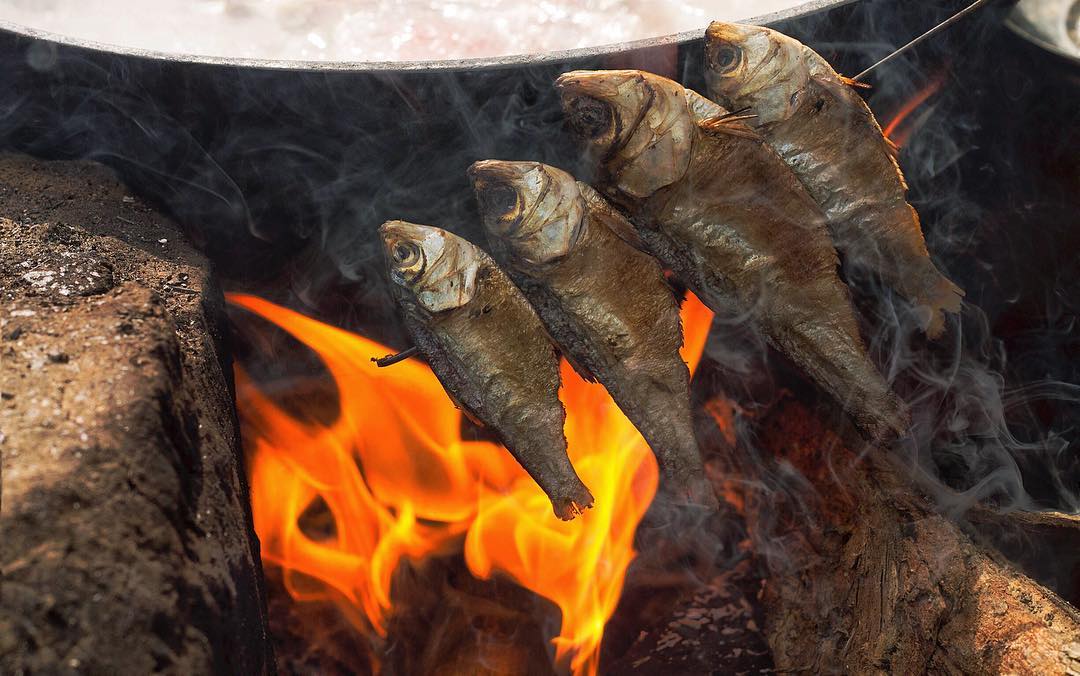 Smoked sun-dried fish for the preparation of fish with colocasia leaves. The leaves have a lot of health benefits and are prepared in different ways in various parts of India. In northeast India methods of sun drying and fermentation are widely used. Food is cooked over firewood for smokey flavour but not cooked over heat for a long duration to retain its natural flavour. Use of spices is minimal.
5. Rice cake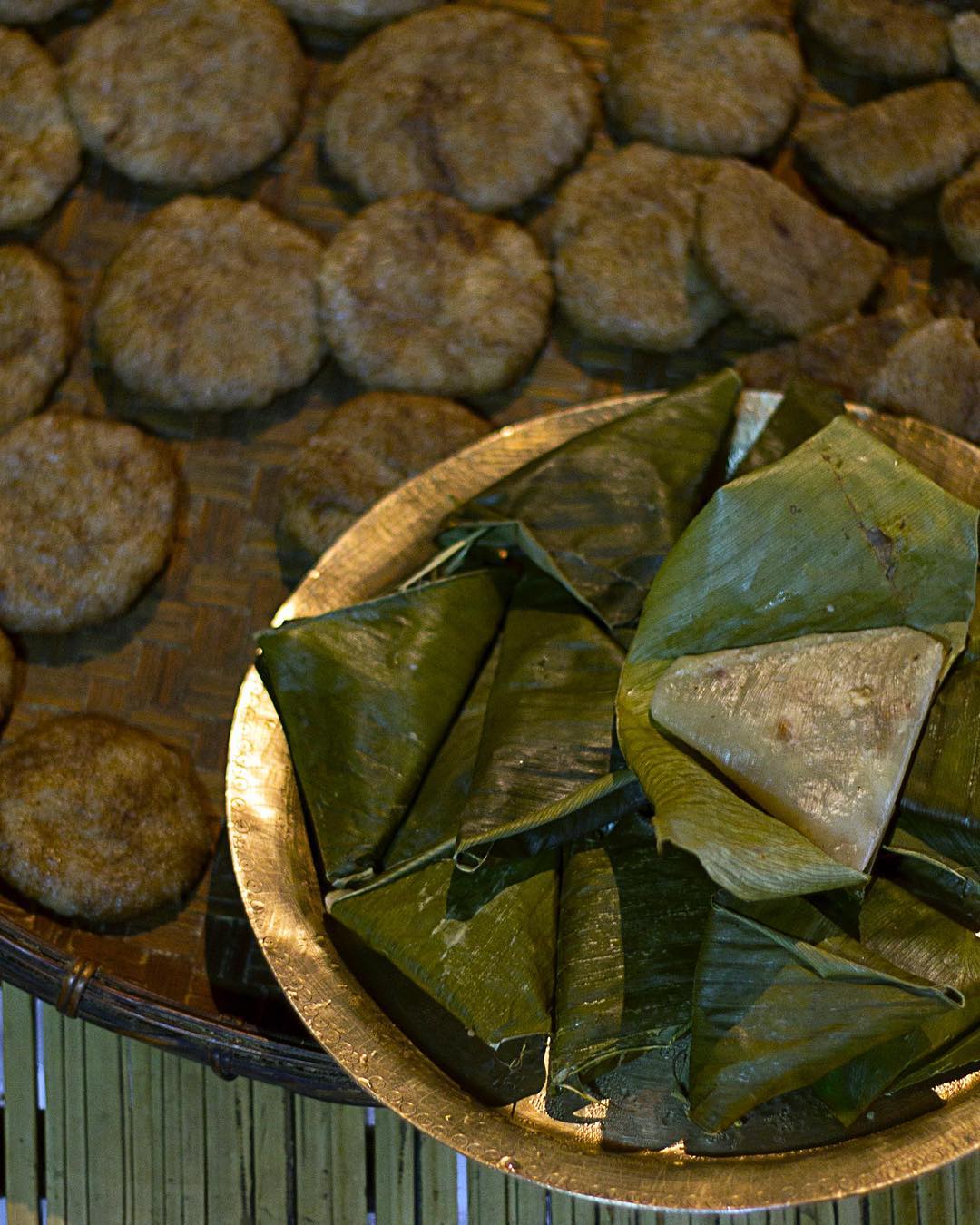 Rice is widely consumed by every household in Northeast India. We eat it as breakfast, lunch, dinner and snacks, cooked in different ways. Even our local alcoholic beverage is made out of rice. This here is a tea time snack. The triangle shaped one is made of rice powder and dry fruits, wrapped in banana leaf and baked. It is soft, mildly sweet, with bits of dry fruits. The round one has a texture and is deep fried (it was fried after this picture was taken). The outside layer is slightly crispy and the inside is soft. The dry fruit one was my favourite.
6. Food from Arunachal Pradesh
Galos are a central Himalayan tribe. Apatanis live in the zero valley of Arunachal Pradesh. Nyishis are spread across Arunachal Pradesh. This meal I shared is with three tribal groups cooking together. The usual and staple roasted pork on stick. Top left is Amn, a chicken dish cooked with grounded black pepper and rice powder. Below is a mix of pork meat and some green herbs cooked in bamboo tube. Bottom is a green leafy vegetable dry fry and fish. Right bottom is a stew of sorts made with chunks of pork and bamboo shoot noodles. Top right is banana flower and pork meat, mixed with pounded ginger and chilly and cooked in a raw hollow bamboo tube. Centre is sticky rice wrapped in leaf. In the bamboo tube Apong (sweet rice beer) is served. Absolutely delicious.
7. Mishing Thali This wholesome Mishing Thali was heaven, starting with juicy roasted pork on the stick. The dish on the left bottom is Olum Owin, chicken made with rice powder. I had never eaten chicken cooked this way and it was love at first bite. Above that is Namshing, dried river fish cooked with colocasia leaf with some chilly. Delight to your taste buds. Aeg Adin is pork cooked with mustard green. This combination of pork has always been a local favorite of mine. Then there is a veg version of black lentils with rice powder. I love the chicken one though. Healthy and crunchy grated carrot, cabbage and chilly chutney. Purang which is sticky rice wrapped in a leaf. And fresh river fish fry, always my favourite.
8. Bodo meal
The Bodo meal was served on kahor bason (bell metal utensils). There are some benefits of eating food on this metal. The thali had a variety in taste like bitter, smokey and salty. Left bowl on the plate: Sobai Jwng Daau Jwng (Chicken with black lentil). The whole chicken is first roasted with skin, then cut into pieces and fried in onion, ginger-garlic paste, followed by adding the lentils, and some mustard greens. Right bowl on the plate: Dal made of Sobai (black lentil) with thunthuni xaak (green leafy vegetable). Bowl on the left near the wooden board: Narzi (dried jute leaves with fish). This gravy is very bitter, but a Bodo speciality. Middle bowl: Oma Gwran Jwng Aloo Jwng (Pork potato curry), she had a lil leftover from breakfast. Well cooked meat and warm comforting gravy. Right bowl on the floor: Napham (fermented fish). Fresh water fish is stuffed into bamboo tubes to ferment for two to three months. Later it is eaten as gravy or chutney. It has a weird, pungent smell but tastes delicious.
9. Naga Sema thali Delicious Naga Sema thali starting with red axone chutney on the left. Roasted tomatoes, green chillies, fermented soyabean and ginger are mashed together with some salt. Galho is a type of porridge made with rice and vegetables, or meat. This one has namoi pat (herb) and anishi (colocasia root). This has a bland taste, but very healthy. The greens are salad made of asiatic pennywort and tomatoes. Adds a crunch and freshness to the meal. Boiled rice with Naga style fish curry. The axone in the tomato curry adds colour and flavour to the dish. Thevo Chu is pork cooked with bastenga (bamboo shoot) and chilly, ginger garlic.
10. Axone When I entered the kitchen, it had a very strong pungent smell. Later, my host, Mrs. Setali Sema revealed that the smell was from fermented soyabean, which is low on fat content and high on nutritive value. In Nagaland it is known as Axone. This Naga Sema household cooked Naga fish curry using this ingredient and tomatoes. The axone adds a strong flavour and brownish colour to the curry.
11. Mizo thali
Music and dance are an important part of Mizoram, also known as the 'Songbird of the Northeast'. Their cuisine consists of a lot of meat, and they like to enjoy their food with its richness and raw aroma. This is a well known Mizo thali my host cooked for me, which comprises of very spicy Birds eye chilly chutney. They are tiny blood-red chillies with intense heat. Samtawk Bai, a soup made of mustard greens boiled with Vawksa Rep (smoked pork). It's fresh and packed with good nutrients. Aloo fry Mizo style. A few whole garlic cloves are dropped into the hot oil, after which the potato is added. The oil has a garlicky aroma and the potatoes are crispy on the outside and soft inside. Hmarcha Rawt, long beans and birds eye chilly chutney. Jongtra (long green beans), frozen pork fat, salt and grounded chilly paste mixed together. The beans add texture, while the fat cuts the intense heat. Steamed rice and another type of spicy chilly bean soup. There was a particular lavender looking herb added to this soup, which had such a wonderful aroma. Dal is usually a mix of three lentils, (moong, toor and masoor), boiled for three whistle and added to sautéed onion, chilly and tomato. They add boiled eggs to their dal sometimes. *not in the picture*.
12. Jonga-mod This beautiful equipment is made from a type of gourd. Due to its shape, it's called water jug. Bottle gourd, bitter gourd, pumpkin, squash are commonly eaten in the northeastern region. The shell is sun dried and used for the purpose of mixing and serving. Jonga-mod, beverage of the Rabha Tribe tastes slightly sour and pungent. They even make rice beer cakes.
13. Wu hkawng - Singpho
Chicken marinated with masala leaf, olive leaf, garlic, ginger, chilly and salt. The mixture is wrapped in kol pat (banana leaf) and cooked on a pan on low flame. A brick is used to put weight and hold it down while it cooks. This dish is called Wu hkawng by Singpho people of Assam and Arunachal Pradesh and looks like a chicken cake.
14. Silk worms
During my trip I got to taste some weird appetizers too, like these wriggly, brightly coloured silk worms, which tasted like over fried prawns. I believe in trying everything once before making a judgement about it. Must say, not bad for a first experience.
15. Tiwa Karbi Tribe Thali The Tiwa Karbi Tribe Thali consists of Wahoo Saker which is pork meat cooked with black lentils. Jumbang Saker is the yellow fish curry with rice powder and turmeric. Thakum Saker is the green dish made of colocasia leaves with dry fish. Laflang is dry fish wrapped and roasted over fire with ginger garlic chilly and homemade sodium bicarbonate (khar). Tumrelai waftuka is pork intestine cooked with fig leaves. The meal is served with Paramai which is rice boiled in bottle gourd shell.