Meghalaya, the 'abode of the clouds' is home to several spellbinding places that are unbeatable tourist hotspots. Cherrapunji is one such place that has seen the influx of tourists in Meghalaya over the years. Also known as Sohra, this high altitude town is famous for its living root bridges, magnificent waterfalls, deep caves, beautiful cliff tops, and also holds the distinction of being the second rainiest place in India after Mawsynram. It's just a 2-3 hour drive from Shillong, the capital of Meghalaya and the roads are surely a driver's paradise. The nearest Airport is located in Umroi, some 30 kilometers off Shillong and the nearest major railway station is in Guwahati. As a fellow travel enthusiast, I would personally advise anyone travelling to Cherrapunji to stay for 2 days at least so that you can truly explore this heaven on earth. I am penning down the list of tourist spots in Cherrapunji that you must visit on your trip to this part of India.
1. Wei Sawdong Waterfall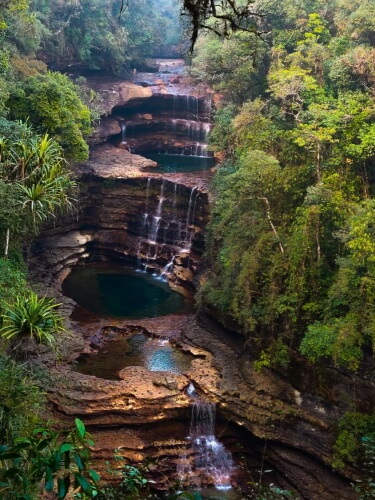 Imagine being in a fabled land, enjoying the music of nature, sitting by a heavenly waterfall and just being happy. Well, I am almost sure this waterfall would have looked very similar to Wei Sawdong. It is undoubtedly one of the most surreal waterfalls you'll ever have photographs of. And the best part, this waterfall is a three-tiered cascade that surely takes your breath away. If this doesn't excite you yet, I am almost convinced, the route to reach this waterfall surely will! You'll have to put on your trekking shoes for a few minutes to reach Wei Sawdong but honestly, the trek will be worth every minute. So, what's stopping you my friend?
2. Dainthlen Falls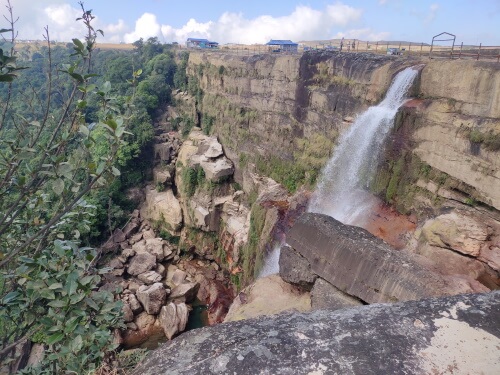 Unsurprisingly, the next stop on our list is also a scenic waterfall. Dainthlen Falls is located just about 5 kilometers from Sohra and happens to be one of the first spots that the tourists halt at. It is arguably one of the best places to relax and chill for sometime before entering the next destination in the Google Maps. The views are both illustrious and enthralling, and you won't have second thoughts on spending some more time here. During the monsoons, the flow of the waterfalls surges a lot and by no means it's a sight to miss! There is also a small yet interesting legend associated with this waterfall. I think the legend would be more interesting to 'hear' from the locals there than to 'read' here, so, let it remain a mystery till then! Okay?
3. Double Decker Living Root Bridge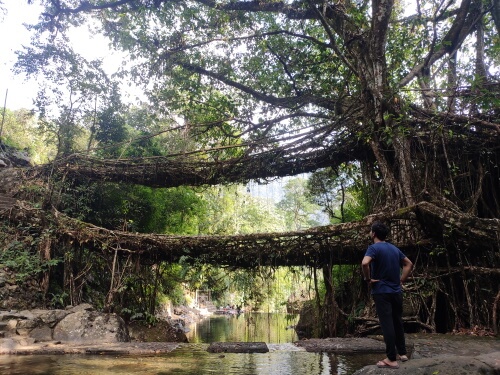 Now comes the big name on this list; the famed Double Decker Root Bridge of Sohra! Let me take a wild guess, isn't this one of the several names and reasons why you signed up for a trip to Meghalaya? Isn't this one of the top names in your Meghalaya bucket list? Well, well, we know it just right. Living Root Bridges in Meghalaya are a major hit and big pride of this part of the world. It's undoubtedly a wonder of nature and amuses both the biologist and the tourist despite having some human touches of the locals to it. To reach this, you should again put on your trekking boots as it's almost a 3-4 hour trek from Tyrna village (12 kilometers from Sohra) to Nogriat Village and then finally to the Double Decker Root Bridge. You can also choose to stay at the many beautiful homestays in Nongriat. The whole trek to the Double Decker Living Root Bridge will be worth every minute. Make sure you carry your raincoats as well to dodge the frequent rainfalls there.


4. Rainbow Falls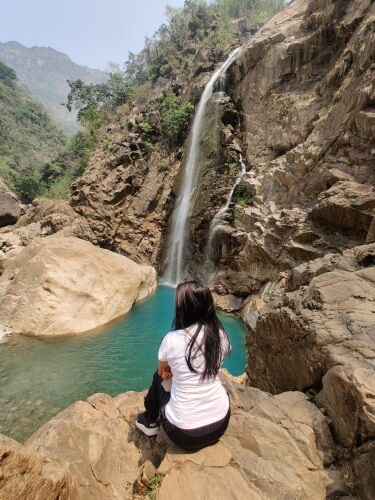 The next destination on the list is yet another waterfall! Oh God, bless us for these waterfalls! The Rainbow Falls is a 1.5 hour climb from the Double Decker Root Bridge and yet another test of your trekking boots. Despite a long trek, the woods, the sounds of the birds, the insects, and also the silence within will keep you hooked throughout. The sounds of the pearl white Rainbow Falls also accompany you for most of the trek and it's almost seems you are on a treasure hunt spree. When you finally reach the Rainbow Falls, you are greeted by a magnificent sight: sparkling white torrents of water falling into a warm blue pool below that almost feels like a big, blue randomly kept piece of cloth. Enjoy the Falls, and also make sure to take a dip or swim through the cold, transparent waters. Just one thing to keep in mind; don't miss this place, make a visit!
5. Nohkalikai Falls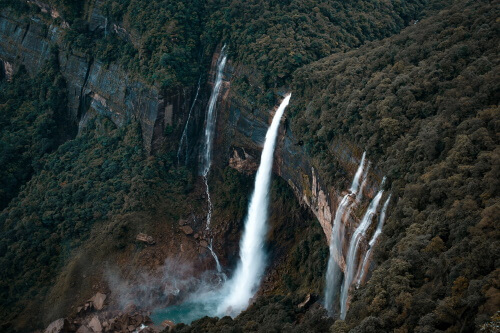 A waterfall and a scenic view! Does that again ring a bell? Hasn't this become a deadly combination by now? Well, our next destination is the ever beautiful Nohkalikai Falls which is also one of the highest waterfalls in India. Sounds fascinating right? This waterfall is just about a 5 kilometer drive from Sohra and has waters gushing down from 1100 feet. You can also reach to the cliff of Nohkalikai Falls which requires hiking for just over an hour. It is one of the most refreshing hiking experiences you'll have in Meghalaya. Throughout your trek, you'll be accompanied by grass fields, gorges, numerous natural water pools and also, fossil covered river bed. If you have half a day to spend and you wish to have a relaxing ordeal, then this is the place to be. The panoramic view from the cliff literally makes you feel you are on top of this world. There's also a tragic legend about Nohkalikai Falls. It is believed that a grief stricken local woman named Li Kai jumped from the cliff realizing she had eaten the meat of her beloved daughter who was killed by Li Kai's husband when she was away for work. Thus the name, Nohkalikai! A local there would explain the story better but it still continues to give me goose bumps!
6. Mawsmai Cave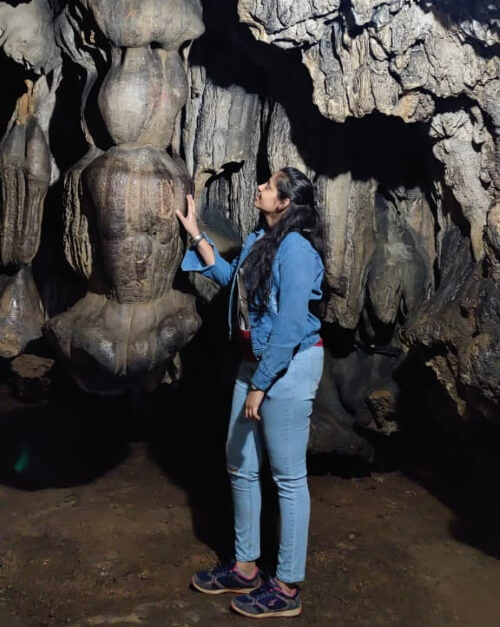 Finally something other than the enchanting waterfalls! A cave, folks, a landmark cave! It is one of the most beautiful limestone caves in Meghalaya and is flocked by a huge number of tourists every year. This is a magnificent natural wonder that screams adventure. It's properly lit and you can walk through inside. You'll have to squeeze in as you go deeper into the cave as the path narrows down though rock formations. Exploring the Mawsmai Cave will lend a new feather to your adventurer cap and I am sure you'll be mesmerized by the beauty of it. Avoid visiting it in monsoons as the rain water might ruin your plans. The history enthusiasts and the cave hunters are sure to have a gala time here.
7. Garden of Caves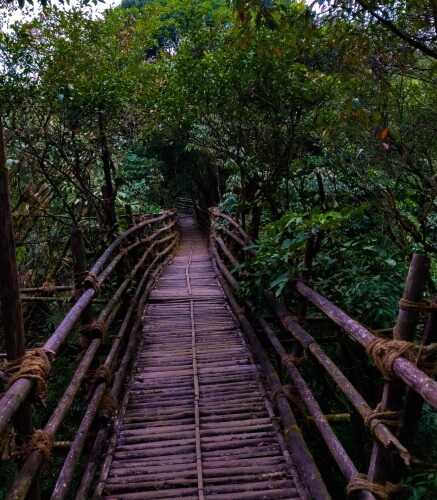 Not just the waterfalls, Meghalaya's caves also have a similar fanfare among the tourists. There are a lot of natural caves in Meghalaya that attracts the attention of the adventure buffs and promises the adrenaline rush among the youngsters. Garden of Caves is entirely a natural wonder located at a distance of 14 kilometers from Cherrapunji. It is a hidden gem and contains several caves and waterfalls that are unique in themselves. The whole area is surrounded by moderately dense forest cover. There are also small ponds and small streams that add more charm to this already enchanting place. You won't find any food stalls or eateries here and therefore it's always advisable to carry some light food with you. Sometimes it's more enriching to spread a piece of cloth or sit by a rock, and take sips of homemade tea and coffee along with a few snacks, isn't it?
8. Arwah Caves
Ah, yet another cave! But are we finished yet? No, not at all because every place in Meghalaya is a true gem. If ever there's any competition on the most beautiful place in Meghalaya, I am sure the winning prize will be split among all the tourist spots. Such is the beauty. Arwah Caves is one such place that might not feature regularly in travel blogs about Meghalaya, but it surely is a hidden gem that completely mesmerizes its visitors. Just 5 kilometers away from Cherrapunjee, Arwah Caves is in its true sense an offbeat tourist destination. The caves that you see in movies and documentaries strikingly resemble the Arwah Cave. When you step into it you almost feel you are part of a Nat Geo travel documentary. Just like every other cave, it narrows down as you go deeper and you literally have to crawl past the rocks. It's not lit up like the Mawsmai Caves as the cave is left in its raw form and therefore it entirely retains its natural charm. You'll notice the limestone water dripping from the stalactites at every step. You'll also notice fossils in the walls of the cave. Amazing right? Arwah Caves provides you with the true caving experience and you'll never regret this experience of a lifetime.
9. Seven Sister Waterfalls View Point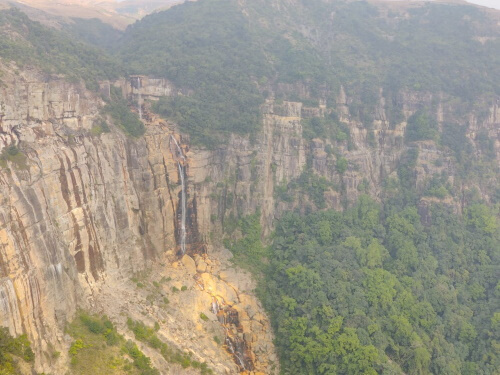 Ok, ok. I swear this is the last waterfall in this list. But I hope you must be loving the places mentioned so far. Well, Seven Sister Falls is another waterfall that is very popular among the tourists. It is one of the tallest waterfalls in India and offers a picturesque view to its visitors. Just as the name suggests, this waterfall is naturally segmented into seven different parts, cascading down from an unbelievable height of over 1000 feet. These seven segments rightfully symbolize the seven sister states of Northeast India and the unity that all these states share. The view of Seven Sister Waterfalls from the road is a sight to behold and surely adds a refreshing mood. It's as if you are looking at a rainbow, gushing down from the cliff. The Monsoons make this waterfall even more beautiful.
10. Cherrapunji Eco Park
If you are visiting the Seven Sister Waterfalls, then you would regret not visiting the government-run Cherrapunji Eco Park. Sure, Cherrapunji is not all about the waterfalls and the caves. There are valleys, and then there are beautiful eco parks. It was specially made by the Meghalaya government for the tourists to experience and enjoy the Green Canyons of Cherrapunji and the Seven Sister Falls way back in 2004. If your kids are accompanying you, they are sure to have a fun time here. God bless you because I don't think the kids will ever want to leave this place. The park has everything from a big children's play area, beautiful orchids, viewpoints, small bridges, to waterfalls surrounding it. It's one of the best spots in Meghalaya to experience both the sunrise and the sunset. And since it's located in a hilltop, you can easily catch sight of the beautiful plains of Bangladesh.
11. Thangkharang Park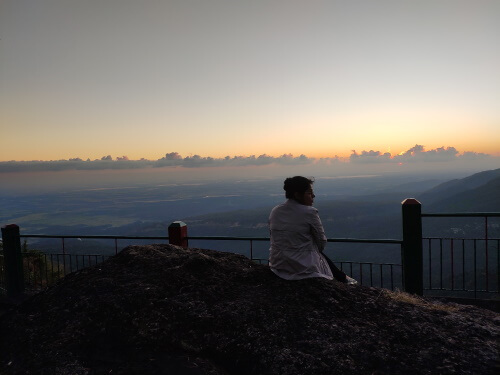 From the Land of Waterfalls to the Land of Caves, and now finally, the Land of Eco parks, well, Meghalaya surely takes up different amazing roles. Thangkharang Park is located just 10 kilometers from Cherrapunji and it sprawls over a massive 100-acre area. It is entirely maintained by the Forest Department of the State and boasts an abundance of trees and flowers. It is a little lesser known area, but it has its own charm. On weekends, it acts as beautiful picnic spot for the locals and on other days, an offbeat destination for the tourists. It also acts as a picturesque viewpoint of the Bangladesh plains and the Kynrem Falls. Just opposite the entrance, lies the famous Khoh Ramhah Rock that resembles an upturned traditional Khasi basket. You can also buy handicrafts and souvenirs from the local shops just outside the park. All in all, this park is a complete package!
12. Mawkdok Dympep Valley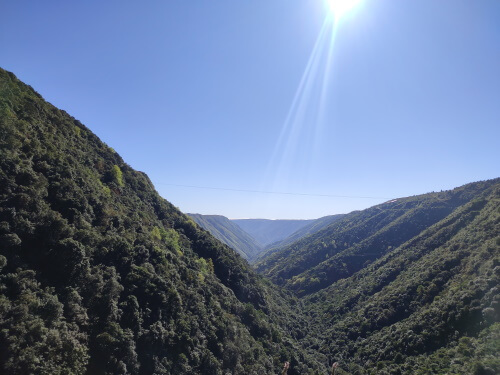 The last name on this list and what better than to sing off with a super popular place? If you are travelling to Cherrapunji from Shillong, you'll most likely see a lot of vehicles stopping by at a scenic location some 25 kilometers away from Shillong. Well, there are two reasons why so many vehicles halt at that place. First, the cafe nearby make super tasty food, and the second, people get awestruck by the panoramic view of the Mawkdok Valley. The main viewpoint of the valley can be reached by walking down a number of steps from where the vehicles stop. The magnificent valley completely makes the tourists go gaga over it. You can also try zip lining from the viewpoint to satisfy the adventurer in you. And when you return from all the sightseeing and zip lining, make sure to order something from the café as your taste buds too deserve special treatment at a special place.
Well, we have arrived at the end of the list. Hoping this list could lead your way through when you plan your trip to Meghalaya. I am sure you would mark most of these places, if not all, on your travel diary or on maps, but I do recommend you cover all these tourist spots. It surely will be worth it. Have an awesome Meghalaya trip, folks! I personally can't wait to walk you through more of such beautiful destinations in Northeast India.
Written By Kaustav Goswami