If you think Assam has always been about the one-horned rhinos of Kaziranga, the Ambubachi Mela in Kamakhya, or the majestic man-made lakes of Sibsagar then you might just have to head straight to an Assamese restaurant or pay a visit to one of your Assamese friends to taste some of the ethnic Assamese cuisines.
Traditional Assamese dishes like the pithas, the Ou tenga jhul, the khorikat dia mangso and every other dish that has their roots in Assam have often featured in the food bucket lists of most people. The famed Assamese cuisines have a league of their own and they are never going out of style. The geographical diversity of Assam clearly rings a bell with the varied dishes that are laden on the Assamese dining table at any given time. Starting from the unique sweet dishes, the evergreen tel pithas, the fish and the chicken curries, the magical dishes made out of the bamboo shoot, and finally, the standalone desserts are sure to give any cuisine a run for their money. A regular-sized bowl full of rice or bhaat and chicken curry or mangso jhul with lemon and pickle are a common sight in any Assamese thali. These seasoned ethnic dishes like duck meat curry, khaar, masor tenga, and even egg curry made with finely chopped coriander leave always keep the food bloggers and the food enthusiasts insatiable and yearning for more.
So why not find out more about some of the tastiest and mouth-watering Assamese dishes you'll ever be served on your dining table. The following dishes are a must-try among both the first-timers and the regular food connoisseurs.
1. Masor tenga:
Assamese sour fish curry
A light and a sour fish dish made with elephant Apple & colocasia tube. A cool preparation was consumed during the harsh summer afternoon. The fish used here is a fresh catch Goroi and it's absolutely scrumptious with a riot of flavors.
Boiled (ukhuwa) Rice.

Fish curry with elephant Apple & colocassia tube.

Roasted goroi fish mash.

Jackfruit seeds & pumpkin shoots dry curry.

A piece of bhut jolokia.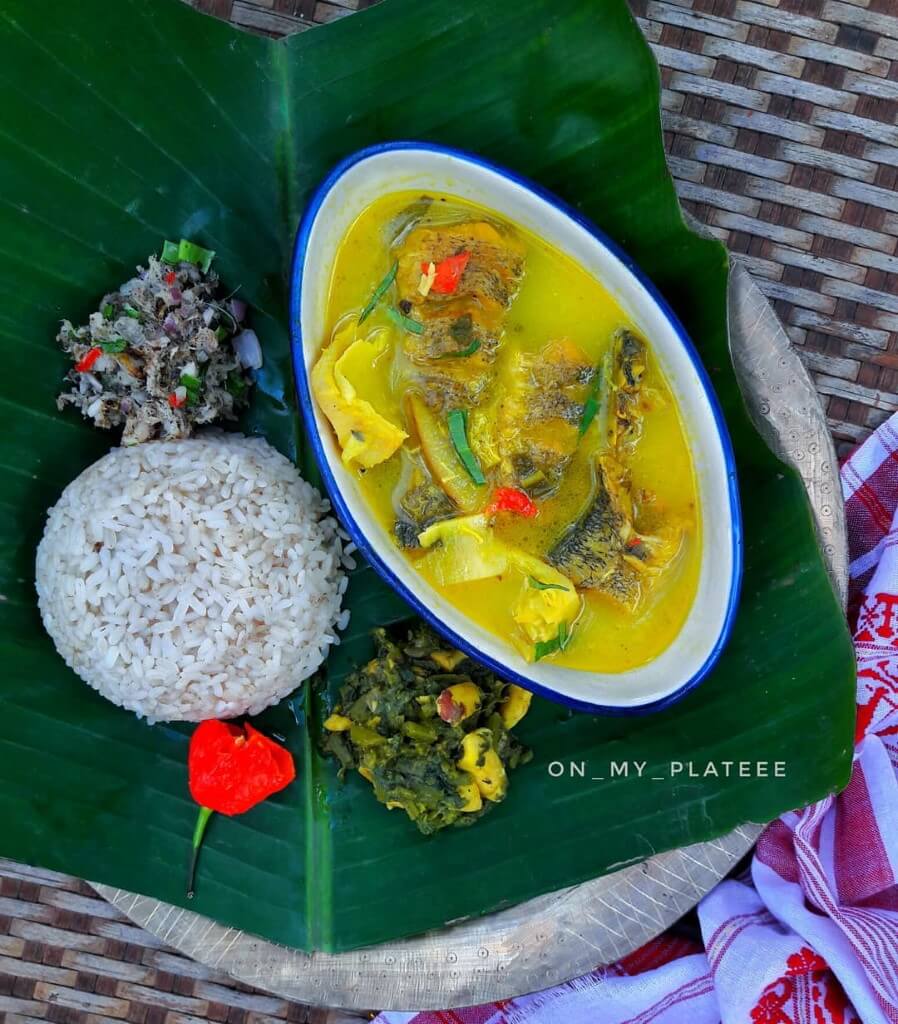 Image by Puravee Bordoloi
2. Assamese style duck curry
Duck curry made with Joha Kumura (A special Aromatic White Gourd found in Assam) is a scrumptious must-have during winters.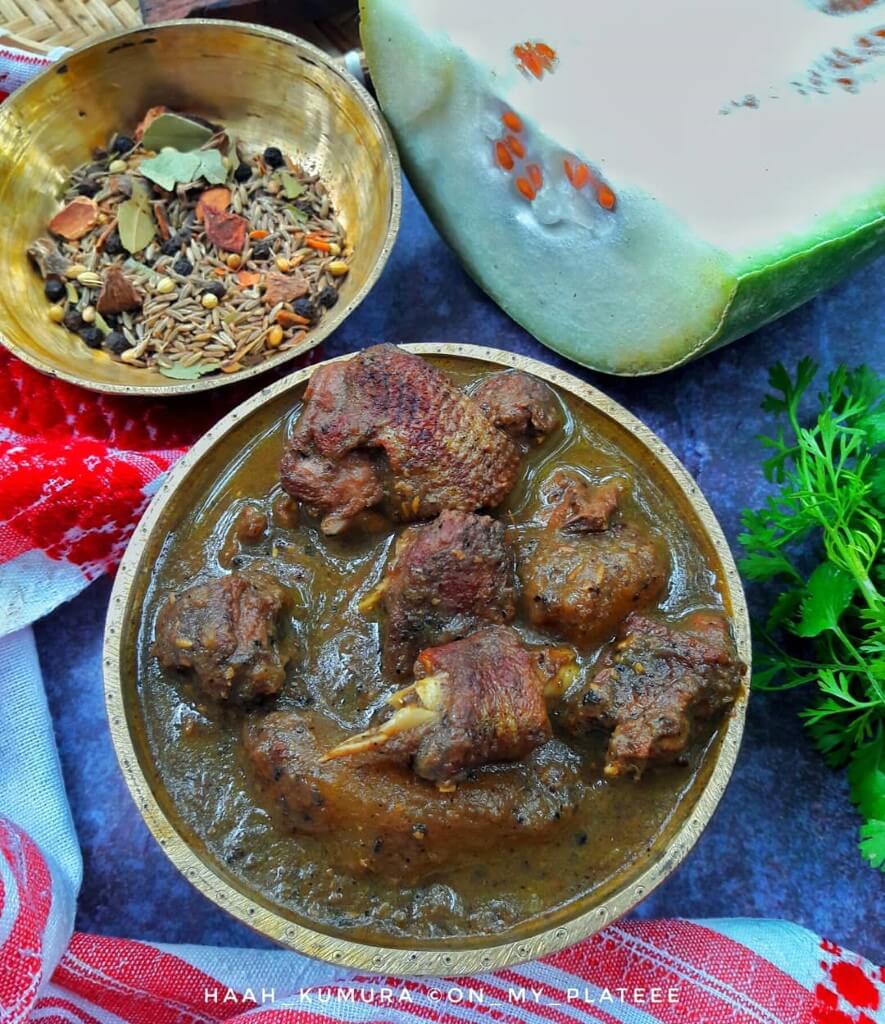 Image by Puravee Bordoloi
3.
Kol Pitha
A kind of Assamese pancake, made out of banana pulp and rice flour served with a bowl of hot Buffalo milk and jaggery. This beautiful and simple breakfast platter is very delicious and healthy too. Traditionally Bheem Kol ( Bheem banana: a heavily seeded variety of indigenous banana only found in Assam & parts of North East India.) is used to prepare the pancake.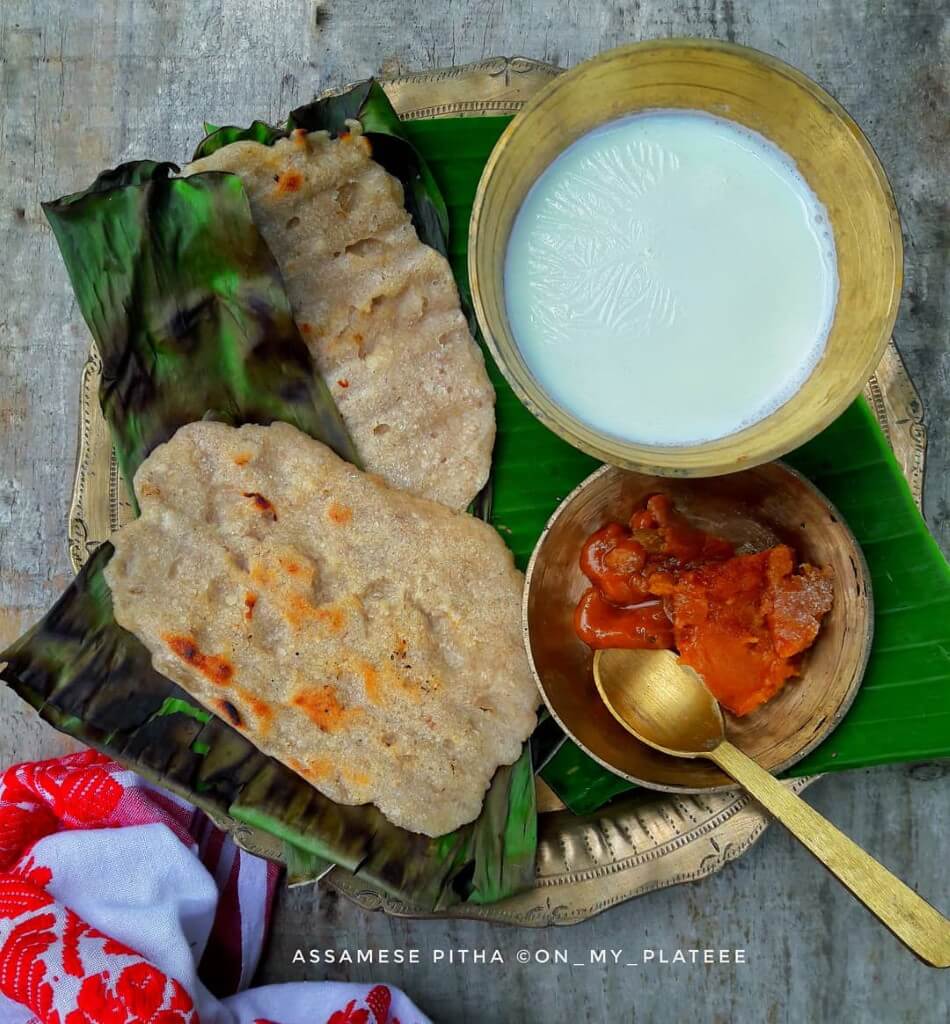 Image by Puravee Bordoloi
4.
Til Gahori/ pork with black sesame
This is one of Assam's favorite pork dishes. Ginger garlic, chili, salt, roughly grinded black sesame seeds & good quality pork, these few items can create magic - It's a light sour in taste as the sour fruit brings out the subtle sour taste in this dish.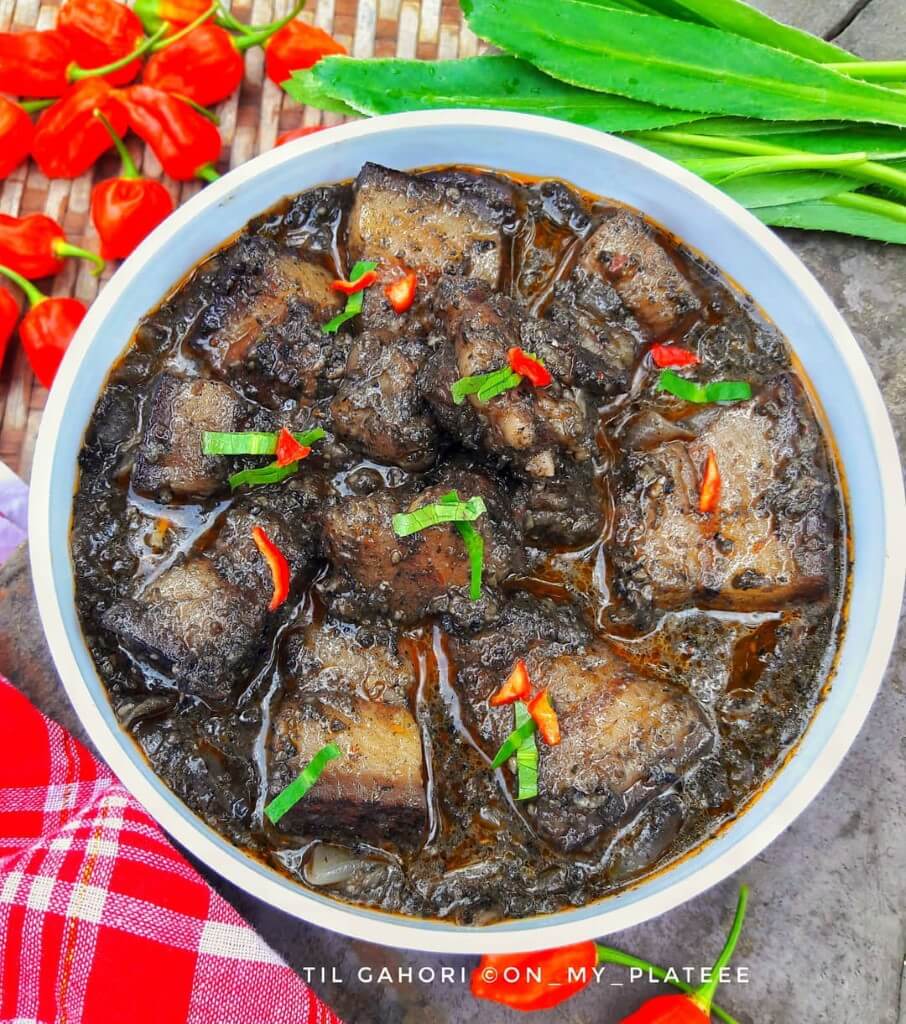 Image by Puravee Bordoloi
5. Pani Hamuk:
Pani Hamuk(Assamese) or water snail boiled with pumpkin. Yes, you show it correctly. Assamese and other North-Eastern people eat snails. These kinds of snails are collected from paddy fields and may only be found here. You need to suck out the snail of its shell.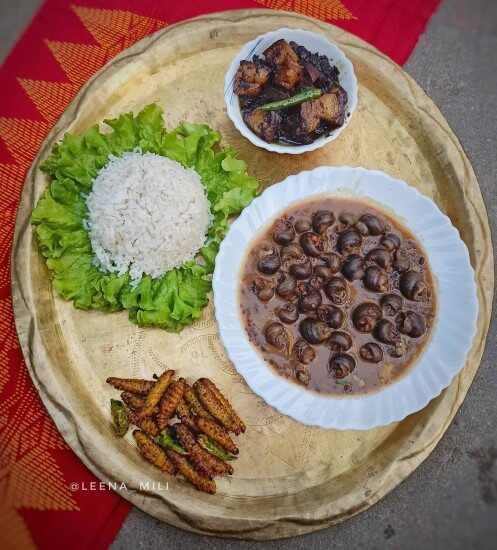 Image by Leena Mili
6.
Chicken with black sesame
One recipe that is always close to the heart and it's a Tiwa ( A tribe in Assam ) traditional dish, served to the bride with the first meal at her in-law's place. A perfect til chicken curry is always little greenish in color.
Ingredients:

Chicken- 300 gms
Black sesame - 4 tbsp
Two large onion - sliced
Cumin seeds: 1 tbsp
Black pepper: 1 tbsp
Ginger - 1 inch
Garlic - 10 cloves
Garma masala (homemade) : 1tsp
Salt to taste
Turmeric half tsp.
Bay leaves 1
Mustard oil : 2 tbsp
Hot Water as required.

Process:
Dry roast the black sesame seeds till it starts to crackle. Pound them in a mortar and keep them aside.

Grind the ginger garlic and keep it aside. Make a fine paste of cumin and black pepper.

Heat oil in a pan. Add bay leave and sliced onion. Fried till translucent. Next, add garlic-ginger paste. Stir well. Allow them to cook in low heat for few minutes. Now mix the cumin & black pepper paste and fry for another couple of minutes.

When masala releasing its oil, add chicken pieces, turmeric, and salt. Mix well cover them with a lid. Let's cook for at least 15 minutes.

When the chicken is 80% cooked, add the black sesame powder. Mix well & add hot water as required. Allow boiling till the chicken is cooked properly. When it's done add garam masala powder and keep boiling for another 5 minutes. & It's ready to serve.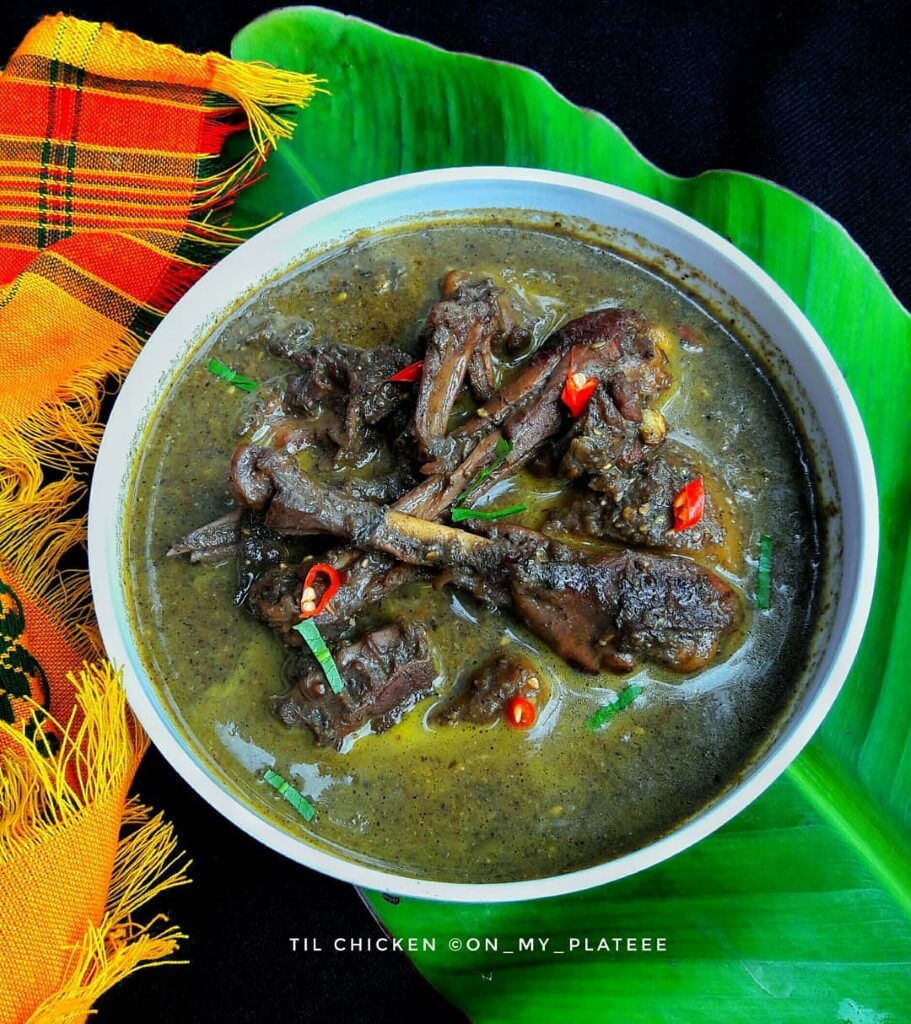 Image by Puravee Bordoloi
7. Poita Bhaat

Poita bhat, which is consumed by many people in Assam and other states of east India is prepared by soaking and fermenting cooked rice overnight in water. It's mainly popular in rural households where this method is used to preserve the leftover rice and eat as breakfast on the following morning along with salt, chili, oil, etc. Also poita bhat has immense health benefits.
It is also one of the most favorite dish on hot summer days in Assam.
Here poita bhat platter contains:
Mashed potatoes, roasted cherry tomatoes mash, jackfruit seeds & fermented bamboo shoots mash, fried fish, kharoli (fermented mustard chutney), lentil chutney, khorika fish, Onion, Ghost chilli, salt & mustard oil and a bowl of poita bhat with few drops of raw mustard oil, onion & black chana.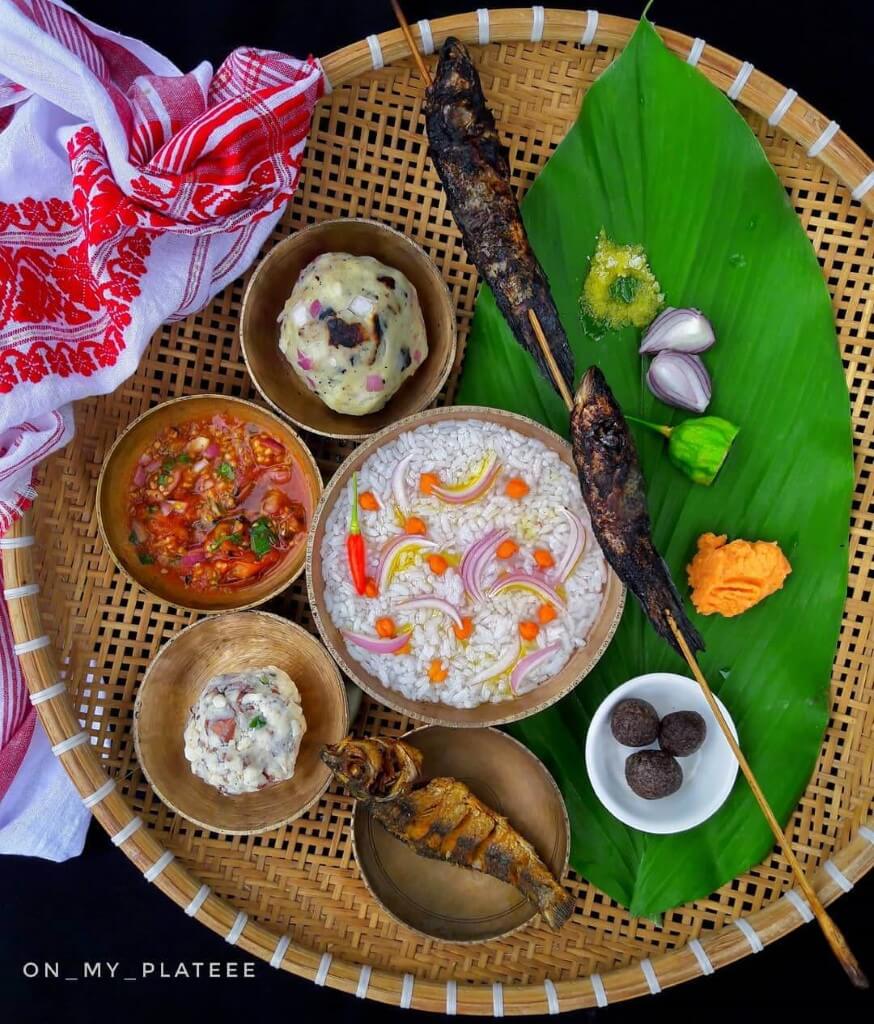 Image by Puravee Bordoloi
8. Silk Worm -
Most people outside the northeast may find this dish weird but it's truly a delicious one.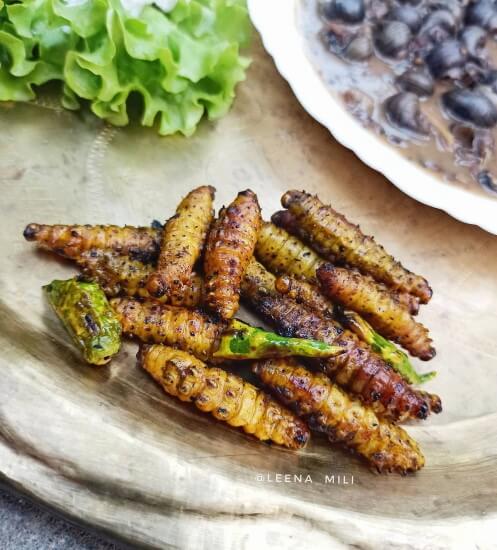 Image by Leena Mili
9. Festival Sweet Dishes
During festivals ( Mainly in during Bihu festival), People of Assam prepare delicious sweet dishes mainly using coconut, sesame, sticky rice, jeggary etc. few of them are Til Pitha, a pancake made of Sesame and Bora Rice (A special sticky rice found in Assam), Narikolor Laru (Laddu made of grinded coconut and Suji), Tilor Laru ( Laddu made from Sesame and jaggery), Bhapot Diya Jon Pitha (Steamed Rice flour pitha stuffed with coconut and jaggery mixture)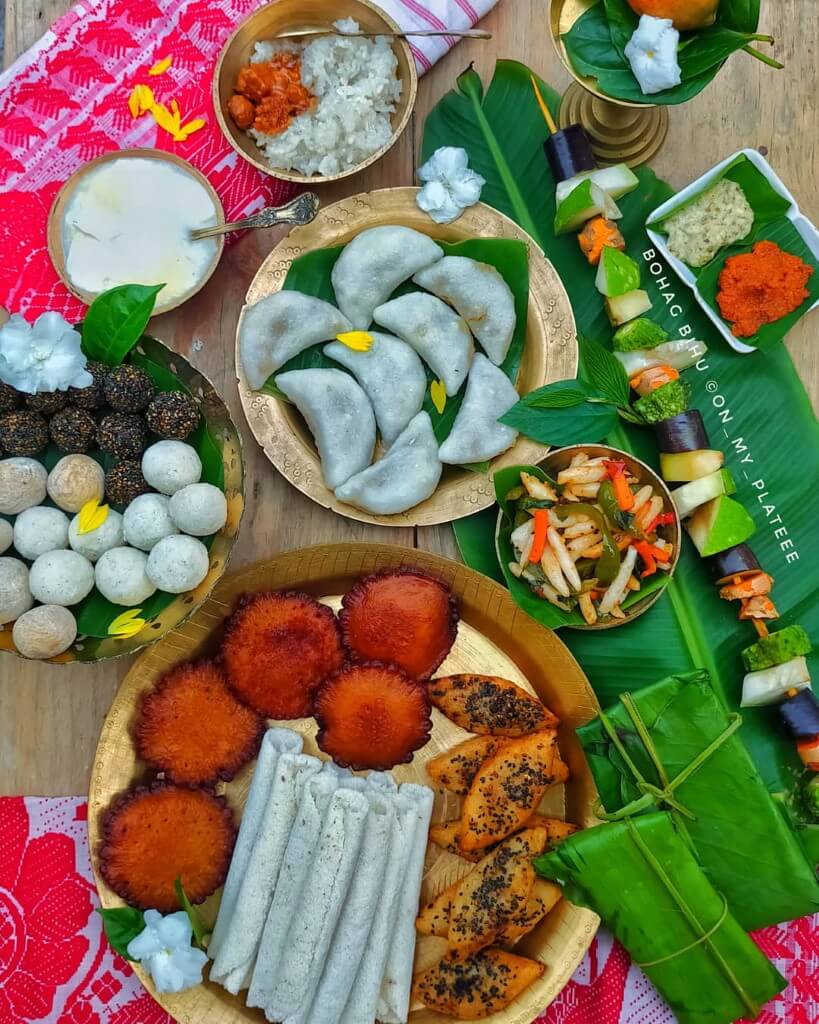 Image by Puravee Bordoloi
10. Rice with
Pigeon curry
Pigeon curry is one of the most popular dishes in Assam and mostly prepare during festivals and when a guest comes. It is cooked with potato and served with Joha rice ( A special aromatic rice found in Assam) and lentils.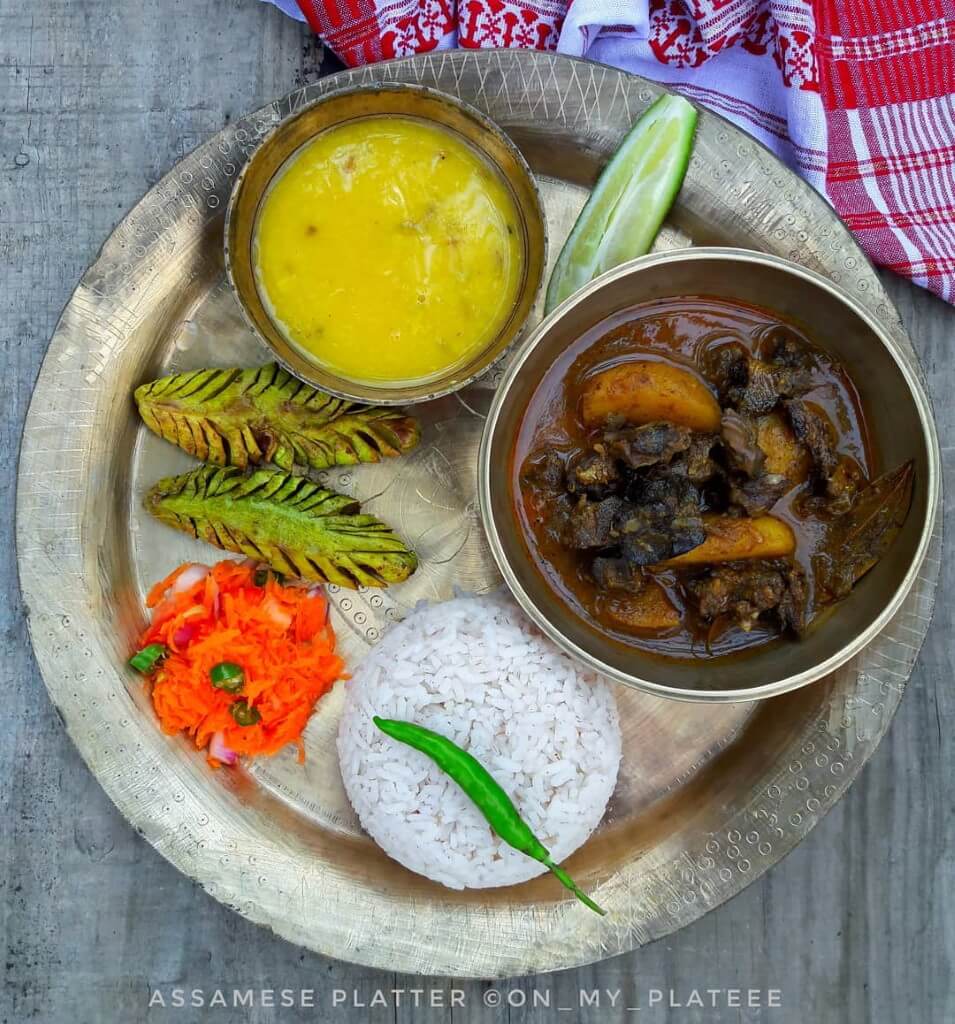 Image by Puravee Bordoloi
11. K
holasapori pitha
This pitha (Pancake )is also known as pani pitha, hazarmukhi pitha, bhurbhuri pitha etc in different parts of the state. It is made out of fresh rice flour, salt, and water mixture. This is mainly consumed as breakfast with red tea and gur ( Jaggery).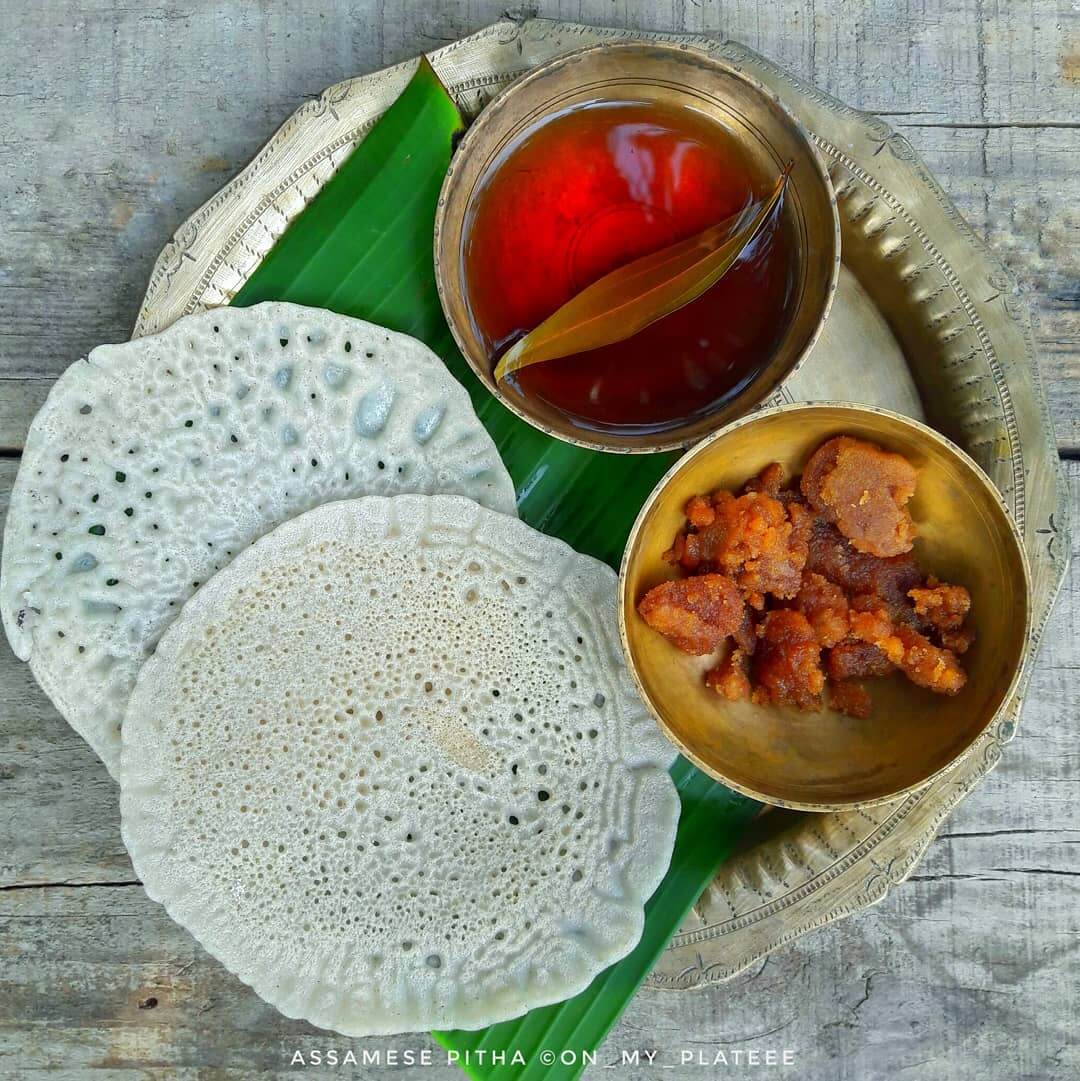 Image by Puravee Bordoloi
12. Assamese Fish Thali

There are hundreds of fish recipes across the state. Here is a few of them.
Fish curry cooked with ridge gourd and tomato/ masor tenga.

Boil fish with khorisa ( fermented bamboo shoots & bhoot jolokia)

Fish head dry curry with jackfruit seeds, amaranth leaves, and white mustard paste.

Fish intestine fry with leftover rice.

fish fry, Rice, and green chili.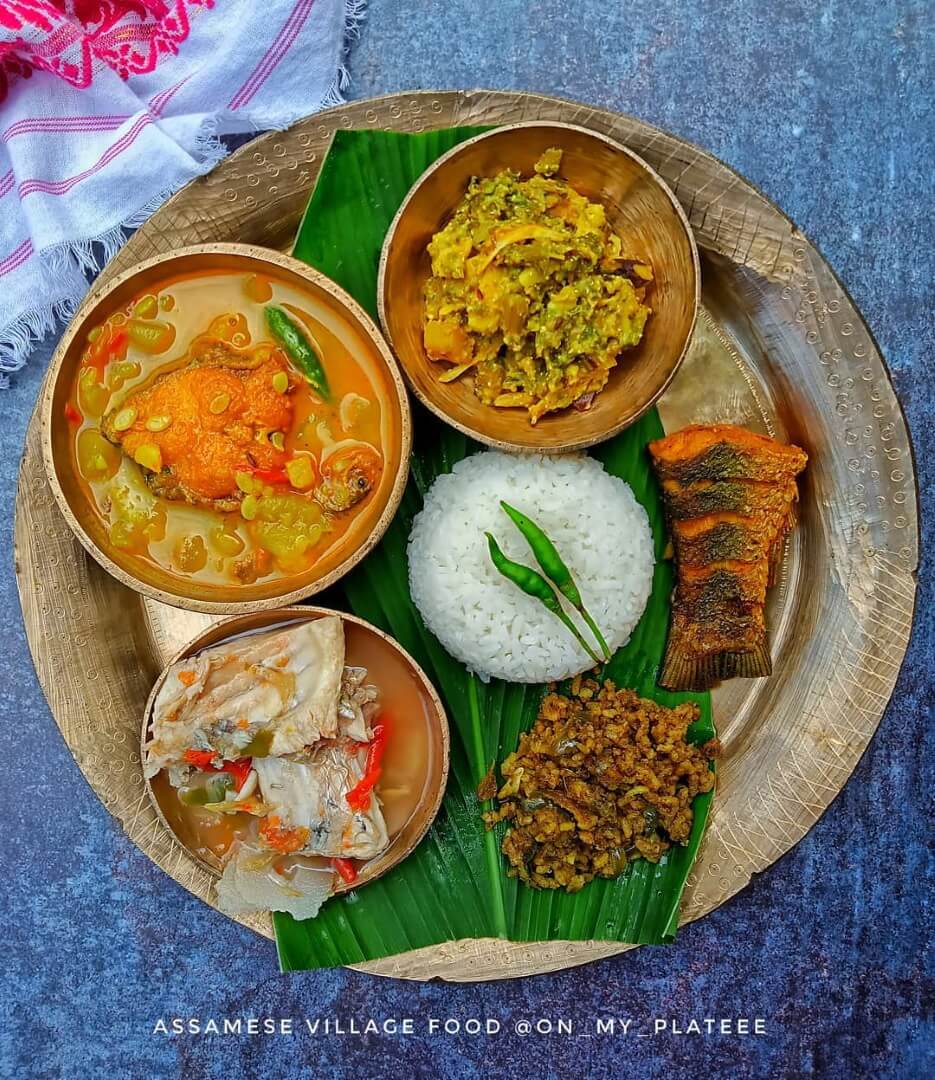 Image by Puravee Bordoloi
13. Pork with Bamboo-shoot
Smoked pork boiled with fermented bamboo shoot, tomato & ghost chilli. Bamboo-Shoot gives a unique flavor to this dish.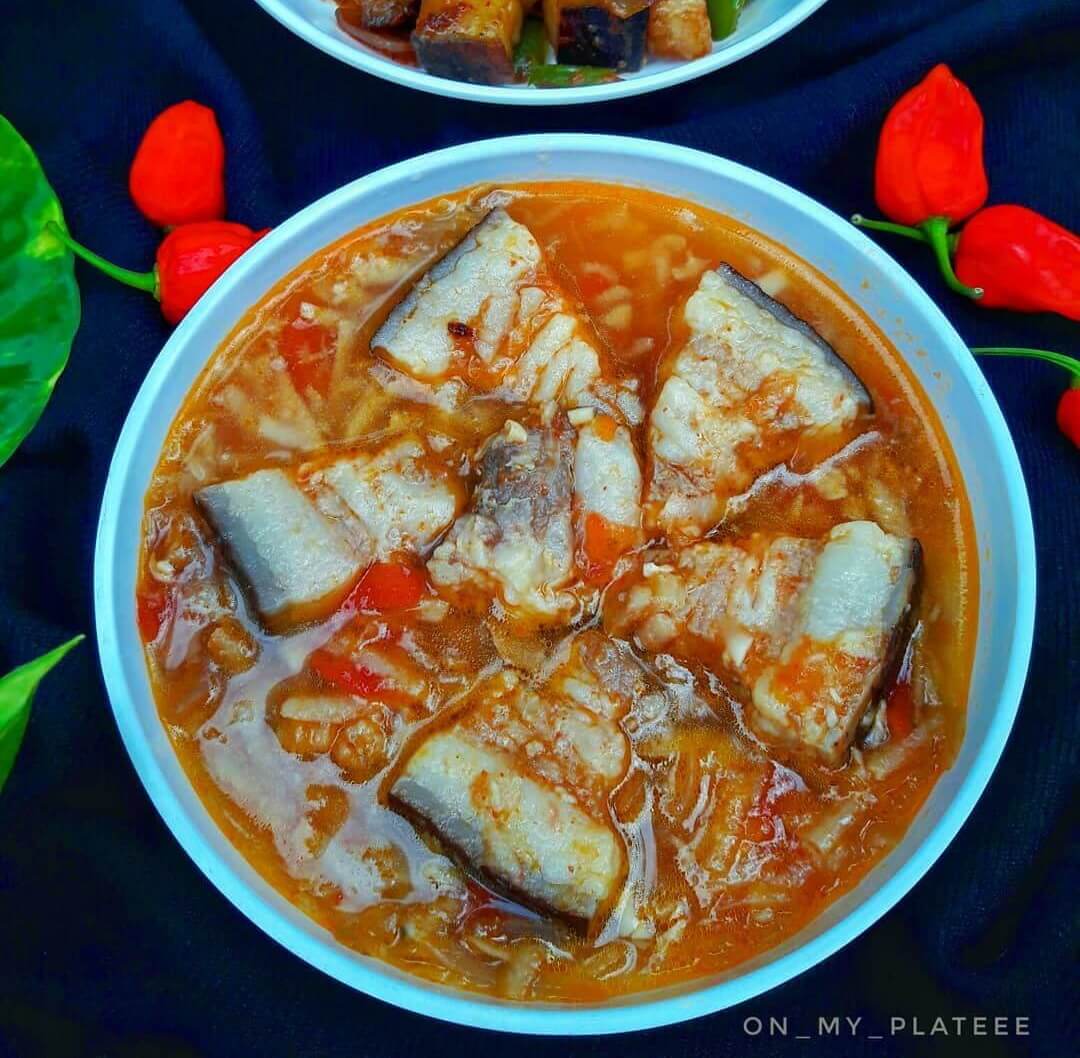 Image by Puravee Bordoloi
14. Kangthu ( Maas Patot Diya
This is one of the traditional methods of Karbi, a tribe of Assam, cooking, where veggies, meat, fish, etc are wrapped in banana or turmeric leaf and smoked directly in charcoal/baked on iron Tawa. This is also called "patot dia" in Assamese language. Here small fishes are wrapped in banana leaves along with other ingredients like raw turmeric, chopped onion, garlic, chili, Culantro & salt and baked on Tawa.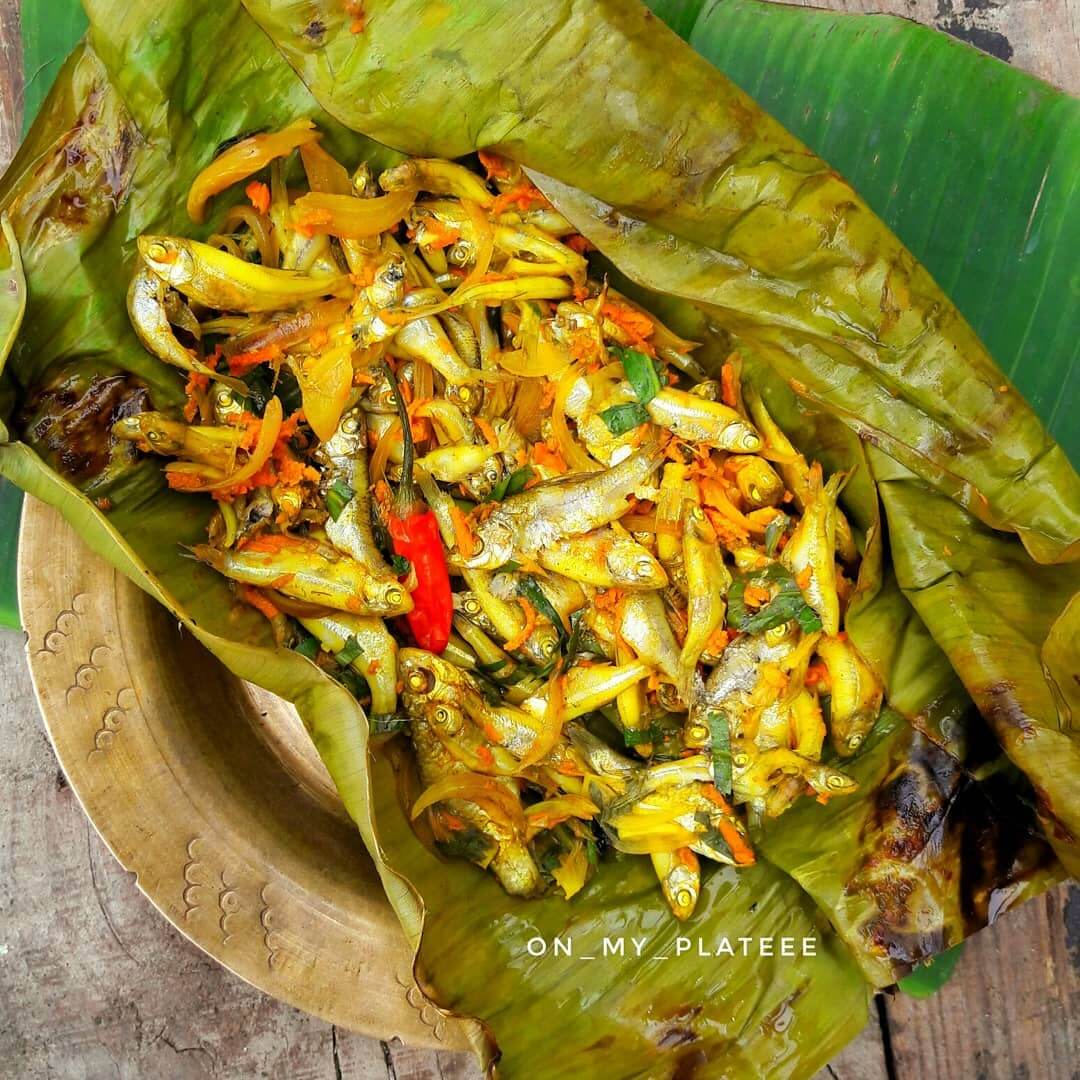 Image by Puravee Bordoloi