I have travelled in groups with family and friends, to interesting places, both at home and outside India. Travel is addictive. You keep going back for more and every time, it's a different adventure. I have long since wanted to experience travelling on my own terms and at my own pace. However, the anxiety of the unknown always pulled me back. All that changed after a passing conversation with my friend, who took off in his car and went on a solo trip in the United States. I decided to give myself a couple of months to plan my truly, solo travel.
MAKE A PLAN
As a female traveller, I think I mostly meander towards safety. Choosing a place to visit is quite easy. I have always wanted to visit Meghalaya, the abode of the clouds, having heard first-hand stories of friends who lived in this beautiful north-eastern state. It is matriarchal and the crime rates against women are virtually unheard of. In the winter of February, I planned a three-day stay with two days for travel to mesmerizing Meghalaya.
REMEMBER, NOTHING GOES ACCORDING TO PLANS
Guwahati is the gateway to the north-east. My flight to Guwahati was delayed because of a passenger emergency. This meant I will reach Shillong quite late into the evening. From Guwahati, I opted for government run Meghalaya transportation that is available at the Airport counter, which is cheaper, albeit slower. It was a three hour journey, with a stop-over for dinner at a local dhaba. You also have taxis that will ferry you to Meghalaya at a negotiated price. I reached Shillong at 11:00 pm in the biting cold, with not a soul in sight, and wondered how to reach the hotel at that time of the night. A kindly co-passenger, a doctor, offered to walk me to my hotel to make sure I was safe. The hotel had also called a couple of times to check on me. It was a full day of travel and adventure. All I wanted was to sleep.
CHOOSE YOUR STAY WISELY
On the advice of my friend from Shillong, I booked a hotel in the Police Bazar area, aka PB. From there you can walk around to the market area, catch a bus or taxi, or stop by and choose some amazing street food to enjoy in the cold weather. The menu also changes with the time of the day. I struck a friendship with a food stall owner and for the next three days, I ate every item on his menu starting with the "laal chaai" (red tea) and explored other stalls to try their silky momos, parathas, and chow (noodles). You can also enjoy "kwai" their local betel, but it was not my cup of tea. If you love chaats, then you get delicious chaats along the way. In particular, the perpetually crowded Delhi Mishtaan Bandar is known for its quality of food.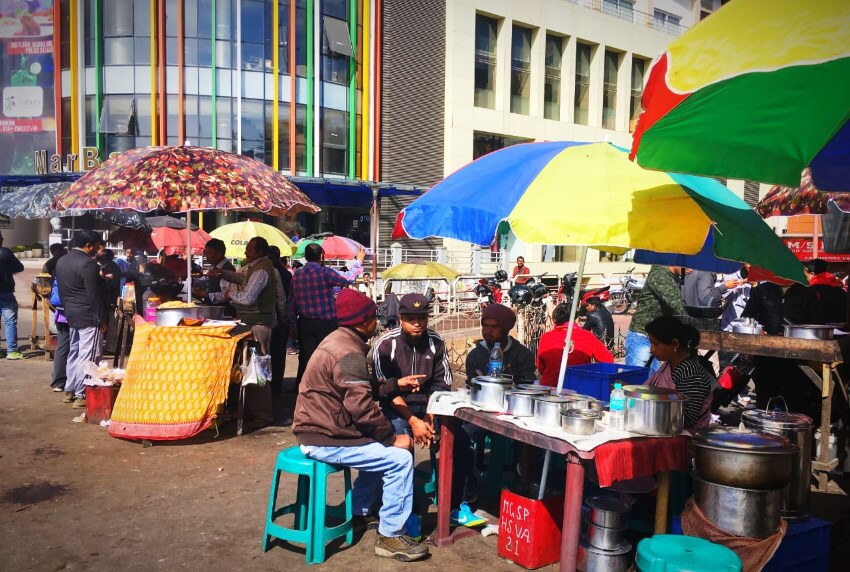 MY THREE-DAY ITINERARY
I hired a taxi to give me the flexibility to travel where I wanted to or just hang out in the middle of nowhere to take in the scenery. I was lucky that my taxi driver was also obliging.
Day 1 definitely had to be a visit to the Living Roots Bridge, Sohra which has become a cultural icon of Meghalaya. Hearing about it is one thing, but walking on the bridge, feeling the tenacity of the roots, and studying its architecture is mind-blowing. On the way, I stopped to take photographs and also walked on the hill to enjoy the cool mountain air, while my taxi followed ahead. It was beautiful weather, peaceful, and I absorbed the moment as much as possible. At the Living Roots Bridge, you can hire a guide, which I did in case I needed any help. Otherwise, you can go on your own, just following the 3000 odd steps to the Bridge. On the way, stop by and enjoy their local juicy fruits and treats. The pineapple was amazing! At the Bridge, there is also a natural pool formation that you can enjoy by dipping your legs for a fish spa. I was living my travel dream. We returned through the ancient forest trail, which is known only to the locals or guides. We were off to an excellent start.
Day 2 was a boating trip in the Umngot river in Dawki, which is a three-hour drive to the West Jaintia Hills district. I have seen stunning photographs of its crystal-clear waters, which makes the boats look suspended on the water! You pay an entrance fee and then head over to the river area where you will be taken along a well-trodden path. It was a different landscape from the dense foliage that I had enjoyed the day before. The waters are aquamarine, clean, with the boulders clearly seen below its waters. The boatman also stops at one of the local shops by the river for some snack break and you can also laze about, like a true traveller. For history buffs, the suspension bridge in Umngot was built in 1932 by the British. Most interestingly, Dawki also shares the border with Bangladesh. The demarcation is monitored by the Border Security guards on both sides. Whilst no one is allowed to cross into each other's territory, purchase of food and items is allowed right on the border. It was quite exciting to watch and I also enjoyed a masala puri from Bangladesh. That's one for my passport with an invisible stamp! My trip was almost coming to a close.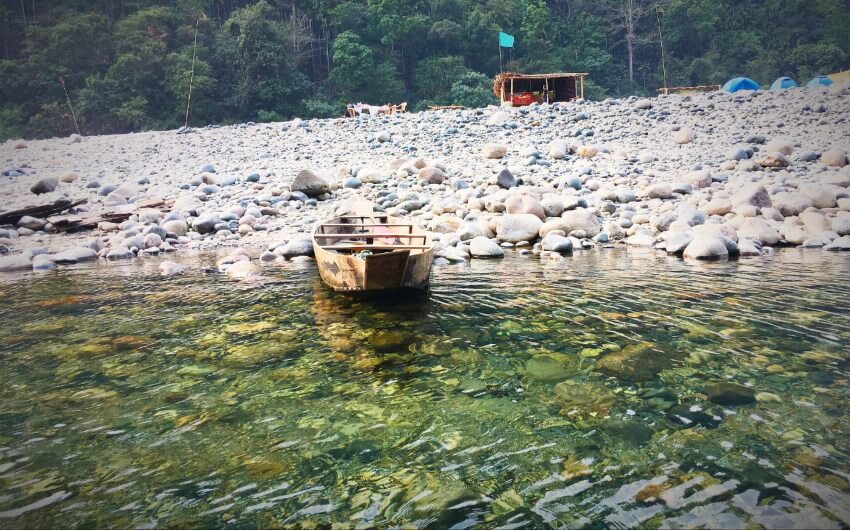 Day 3 was a relaxed day to explore the sights and sounds of Shillong. It was a Sunday, so the morning was fairly quiet except for the churchgoers and the bustling food stalls of PB. I had no particular agenda in mind and simply asked locals around about places to see. I had a great time at Ward's Lake, which is a well-maintained lake in the heart of the city. You can enjoy a boating trip, explore its flora and fauna for some great photographs, or sit on the grass watching the geese. I did all three.
YOU ARE NEVER ALONE
I met fellow travellers from other parts of India and we exchanged notes and indulged in small talk, before we went our way. I realized you are never really alone. You are always in the company of strangers, new experiences, and sometimes unexpected thrills.
While I was getting ready to take the cab to the airport, we were hit by a curfew. The road to the airport was being pelted by locals. This meant that cabs were not plying from Meghalaya. I tried calling everyone I knew and approached the food stall owner for help. Even his hands were tied.
I was not the one to give up. I kept asking around and finally, with divine intervention found a cab that was headed in that direction. I gave a ride to fellow-travellers who were stranded, and we all made it in time to our respective destinations.
Money is not everything all the time. If you continue to be amazed by everything around you, then the journey is bound to be memorable.
"Travel makes one modest. You see what a tiny place you occupy in the world." – Gustave Flaubert.
Article and photographs(copyrighted) by Sowmya Natarajan.
Follow her on instagram for more travel related stories at sowmya_natz