Prologue
Movie - Into The Wild.
Scene - Chris McCandless hikes to reach some clifftop from where he had a 360-degree panoramic view of some of the most breathtaking view of Alaska. He is exhilarating, running, breathing, feeling the air, with Eddie Vedder's The Lone Wolf playing in the background. The scene evoked the truest sense of freedom. It's a personal thing. Oh Alaska! And all the while I understood that I have to find my heart and follow it where it goes. Sitting alone (though not literally alone, but say some kind of solitude) in the vast valley of Reiek Tlang, I could sense a certain calmness. The calmness that you find in some big calm lake. Yes, there are ripples, but they don't affect you much. I felt like I could spend my entire lifetime gazing at those never-ending horizons, those undulating curves and the thousand shades of green.
Reiek, a small typical Mizo village in Mamit district of Mizoram. We were kinda apprehensive before this trip to Reiek. Language barrier is the foremost. Another aspect is that in places like Mizoram where tourism industry is yet to bloom, you don't get every details in the internet. With all your hopes tied to a string, when you don't know what's gonna happen. Anyway, we carried on with our plans.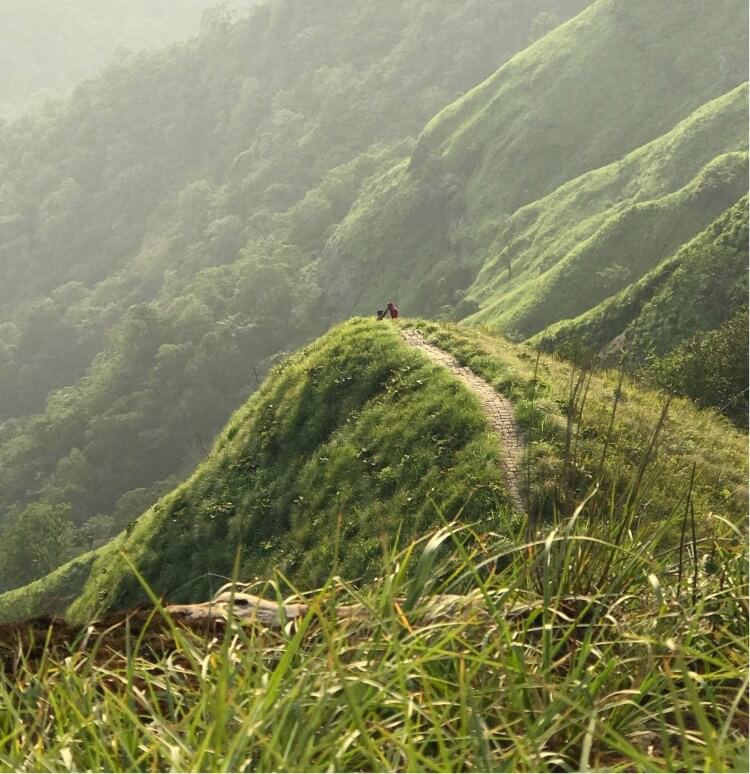 How we Reached : So, on one windy rainy morning, we left for Aizawl from Silchar. It was a six hours drive and Reiek was further one and half-hour ahead of Aizawl. A local friend of our driver agreed to drive us there. It worked to our advantage as he knew both the local language and the directions and also managed to get a few cans of beer for us( It is important to know that there are strict booze-related laws in Mizoram). We started from Aizawl at about 10 AM the next morning. Past say 20-30 minutes of the drive and a breathtaking vista of cloud soaked green mountains opened in front of us. You take one curve along these roads and boom! There you're getting dopamine rush.
We drove through the serpentine lanes thereby passing little Hamlet's one after the other. The faraway glimpse of misty mountains, the clouds playing hide and seek-Everything seemed so perfect. It probably rained tonight. Birds chirping, lukewarm weather, no pollution, unyielding plantation and a breath of forest air. People were less to be found. A few bikers went past us and some labourers were busy in their daily chores. On our way, stopped at a bridge over Tlawng river. There is a pumping station nearby. We took a 10-15 break there. A cold wind was blowing. Water gushing through the station could be heard. The driver guy took a loo break while we took it as an opportunity to sneak around clicking pictures.
Google Map : The thrill of visiting a place about which Google couldn't throw hints back at us deeply enthralling. Anyway, we resumed and leisurely drove past stream-fed waterfalls. The locales at Zopar told us about a local Anthurium orchid plantation on the way. But we couldn't locate it and decided to skip it owing to lack of time. Finally we reached our destination, Reiek village at the stroke of 12 pm( half an hour extra since we took breaks). The village has been projected as a model village by the government. It was a quiet calm village, not a happening one. People are either busy with their daily chores or soaking in the sun keeping a check on the kids who're playing around. The striking point is the cleanliness. Look everywhere and you'll not find a dot of dust or litter anywhere. We had to drive past the village to Reiek Tourist Resort, a government-run property. It is a well-maintained property with all the basic amenities at a very reasonable rate. No sooner did I arrive, visibly exhausted from the long journey and rat race going on in the stomach, we ordered the food and lurched into respective cottages.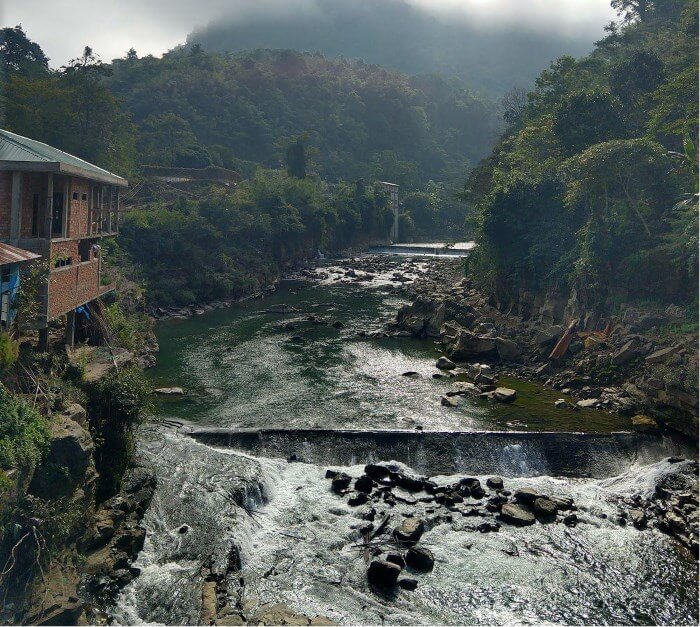 Later that afternoon, we set off to hike to the Reiek summit, a phenomenal vantage point from where you can have a 270-degree vista of verdant Meadows. Also, don't forget to pack plenty of water bottles. The trail started right from the tourist resort and kick-started our mini Indiana Jones kinda adventure. Right from the get-go, it felt like a primitive thickly forested claustrophobic area. The trail was slippery and I slipped over quite a few times much to the dismay of my white sneakers. 45 minutes past and we reached a cave formation. It was eerily silent only to be interrupted by insect chirping and fresh bird songs. Fatigue was setting in. The absence of a horizon was deeply disappointing. And then there it was! A blue tinge of sky at the horizon. A tomb with a cross above welcomed us to the lush green valley. All fatigue was lost and adrenaline kicked in. Nothing can beat that feeling of gorgeous blue sky and lush green Meadows.
We continued the next part of the trail which consisted of steep steps at acute angle, all the while maintaining balance through the gush of wind. It took almost one hour to reach the summit. On the side of edge, I sat quietly and tried to sink in the moment (After I was done with clicking pictures). The sun is about to hit the dust. And as the final ray's of the day hit the opposite cliffs, I can't help but wonder, "A thing of beauty is a joy forever". It has been a surreal kinda experience. Imagine when you have this vast a valley just to yourself, you can't help but get emotionally charged. I felt a sense of freedom. It was exhilarating. It was magically ephemeral. A moment in time may disappear the very next minute, but the permanence of that feeling could very well outlast one lifetime. For me, I knew the experience of Reiek will.
Author Details: Joyisa Deb,
Doctor by profession with a particular longing for all that's beautiful in this world. Over-thinker. Creative writing. Not a caffeine addict. Also making ends meet to make the next trip happen.
Follow Her on Instagram = __joyisa__